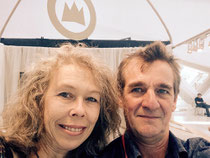 Klaus Spies was born in Saarlouis, Germany. He traveled extensively through South America and Mexico where he first learned the art of goldsmithing. He pursued his craft in Berlin, Germany through the 80s under various goldsmiths and designers and in a collaborative jewelry studio in Kreuzberg.
Klaus and his American wife Susan moved from Berlin to Chicago, IL in 1999 where they started Spies Design. Together they built upon an exciting start on the art fair scene and turned that into a prized craft jewelry brand. In 2008, they moved themselves and the jewelry to Asheville, North Carolina to be closer to nature, one of Klaus's important sources of inspiration.

Sadly, Klaus passed away in late 2019. His wife Susan is continuing the jewelry tradition they started with Spies Design, following the iconic, expressive design path that Klaus trailblazed — bold shapes, natural stones, stunning colors — and upholding the standards of Klaus's superb craftsmanship.